Hello everyone,
Let me just shortly write about my recent sav.com experience and an example of their unfriendly business practices. I have been using sav.com for about one year due to their low pricing on backorders. There were flags in regards to them but have continued to use them exclusively due to their pricing on backorders, and have spent approximately $40,000 in the last 12 months.
Sav.com essentially requires that you have an active payment method with them. There were apparently some domain names in my account that were set on auto-renew. These domains were set on auto-renew by default and on February 28 these domain names were auto-renewed by Sav.com for a total amount of $4,316.00. (the domain names were registered on March 29)
After noticing this (within 48 hours or so), I have opened a ticket requesting the cancellation of these auto-renewals and a refund for this automatic billing. Here is basically the correspondence in regards to this (names/nicknames have been redacted).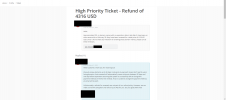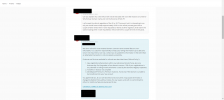 I wasn't necessarily happy with the idea of them not issuing a full refund and keeping $150, but since I had other work-related responsibilities + had work-related travel, I said fine, I'll let them keep $150. After these messages, a week has passed with no reply or refund and I have decided to follow-up with them and the next message that I have received was the most repulsive message I have ever received from any business customer service.

If in the question wouldn't be around $4000, this would be a pretty amusing message. It sounds like a joke (actually, even though as of this moment I am in the red more than $4000, it is still a pretty amusing answer). I have contacted sav.com via another line of communication to ensure that before trying other avenues in pursuit of this refund that this wasn't a mistake, but according to another line of communication, no, this wasn't a mistake, this is their business practice.
Out of $4316, they have refunded me $20.
Given the amount, I will check if there are ways to receive a full refund. If it turns of that there aren't, this means that they can essentially bill you any amount, it could be $20,000 or $50,000 or any other amount that you have available with the linked payment method - and there is basically not much that you can do about it. They basically require you to have an active payment method, they can increase renewal prices at any time, they can rewrite their policy every 5 seconds, and if I am not mistaken? in the past there were glitches where bulk turn-off of auto-renewal didn't work (and there is no way for me to check if I have turned-off auto-renew for these domain names in the past, but due to bug it hasn't been processed).
Given their unfriendly business practices, I do not trust this registrar and would suggest to everyone that if they decide to use them, to use them with caution since this is not the first incident of their unfriendly business practices. Since I have thousands of domain names with them, unfortunately, I can't stop using them tomorrow, but I will definitely reduce any use of this registrar to a minimum and hopefully once domain names that I plan to drop expire, to a zero.
This has been the worst experience that I personally had with any registrar.